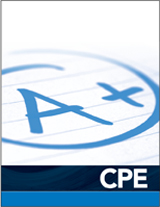 | | |
| --- | --- |
| IFRS: Business Combinations (IFRS 3) | LACPA Member: $45.5 |
| CPE On-Demand | Regular:$70.00 |
| Product# 159740 | Availability: Online Access 1 Year |
The purpose of this course is to familiarize you with the concepts underlying IFRS 3, Business Combinations, and provide an understanding of how to apply those concepts in practice.
Learning Objectives
▪ Describe the scope of IFRS 3, Business Combinations.
▪ Identify what is (and is not) a business combination by applying the definition in IFRS 3. Explain how to apply the acquisition method of accounting for a business acquisition, including the following:
▪ Identifying the acquirer,
▪ Recognizing and measuring the identifiable assets acquired, liabilities assumed, and any non-controlling interest in the acquiree.
▪ Recognize and measure goodwill or a gain from a bargain purchase resulting from a business combination.
▪ Determine the amount of consideration transferred, including contingent consideration.
▪ Understand the treatment of reacquired rights, contingent liabilities at the acquisition date, and indemnification assets.
▪ Describe the required disclosures.