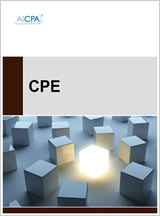 | | |
| --- | --- |
| Forensic Accounting: Fraudulent Reporting and Concealed Assets | LACPA Member:$129.00 |
| CPE On-Demand , 2017 | Regular:$169.00 |
| Product# 158022 | Availability: Online Access 1 Year |
Forensic accountants know all too well the increasing pressure to accurately detect fraudulent financial reporting and to preemptively redesign internal controls to prevent misappropriation of assets. The unique combination of recent economic news and events, plus the endless spotlight of major business failures and scandals only perpetuate the forensic accountant's responsibilities and due diligence. Recognizing fraudulent or deceptive practices is not always easy, but this CPE course will sharpen your forensic skills with techniques to uncover fraudulent activities and help you to see them in their many guises.
Learning Objectives:
Describe the differences between the role of the forensic accountant and traditional accountant.
Name the foundational components of AU-C section 240.
Explain how to use forensic techniques to ferret out fraudulent activity.
Recall analytical and investigative techniques used in forensic engagements.
Recognize the importance of chain of custody in handling critical documents reviewed in the process.
Prepare an effective written forensics report.
Demonstrate best practices to improve your success and credibility on the witness stand.