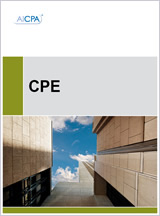 | | |
| --- | --- |
| Fair Value Accounting | LACPA Member:$109.85 |
| CPE On-Demand , 2017 | Regular:$169.00 |
| Product# 153344 | Availability: Online Access 1 Year |
Gain insights into the rationale behind fair value measurement with this CPE course. You will learn about the issues that arise when fair value accounting is implemented under existing FASB standards and see examples of these issues. Learn about the application of fair value measurement in the context of business combination. In addition, see sample presentations of the measurement and estimation challenges that confront preparers and auditors in the areas of initial recognition, subsequent measurement, goodwill impairment, and the use of a valuation specialist.
Learning Objectives:
Identify and apply key concepts of fair value measurement.
Determine instances when FASB guidance requires measurement of assets or liabilities at fair value.
Recognize considerations relating to fair value in the context of initial recognition and subsequent measurement.
Recall considerations relating to working with a valuation specialist.